The Korean moisturizers are more than mere hydration providers; they're transformative elixirs that marry centuries-old traditions with cutting-edge science.
These products are engineered to not only replenish moisture but also to bestow a luminous radiance that's unmistakably K-beauty.
This article serves as your compass in navigating the rich landscape of the best skincare Korean moisturizers.
We've meticulously sifted through an expansive array of products, handpicking the finest offerings to cater to every conceivable skin type and concern.
Whether you're grappling with dryness, seeking to turn back the clock on aging, or simply yearning for that coveted glass-skin finish, you'll find the perfect Korean skincare moisturizer for your needs.
The best skincare Korean moisturizers
This daily moisturizing cream is suitable for dry and dehydrated skin, as it creates a skin barrier that reinforces and keeps hydration and the healthy appearance of the skin.
It contains a combination of powerful and key ingredients:
83% green propolis extract: an active ingredient with anti-inflammatory, antibacterial, and antioxidant action.
Honey extract: to provide a nourishing action
Fig tree extract: to provide a calming action.
With more than 90% natural ingredients, it is one of the best Korean moisturizer creams due to its effective results for more luminous and repaired skin.
This is a top Korean day cream moisturizer with a nourishing texture for anti-aging, brightening, and moisturizing action.
It's rich in active ingredients, such as Gingko Biloba and Ginseg, that improve microcirculation and reduce the appearance of a tired complexion. Furthermore, the presence of ginger contributes to an anti-inflammatory action and is perfect to use before makeup.
This facial moisturizer restores the elasticity and vitality of skin and it's compatible with all skin types.
This mattifying fluid from Jowaé, one of the best Korean skincare brands, is made with 94% components of natural origin.
It hydrates and reduces acne imperfections, such as enlarged pores and blackheads. The formula blends a powerful combination of ingredients that help reduce existing imperfections and prevent the formation of new ones .
With a fresh and aromatic fragrance (clementine, jasmine and mint), the formula contains antioxidant lumiphenols, sacred lotus, niacinamide, complete AHA (alpha-hydroxy acids), and wild mint leaves.
This is an excellent Korean moisturizer because it reduces the appearance of skin marks while rebalancing, protecting, detoxifying, and brightening the skin on a daily basis.
It is a non-comedogenic product quickly absorbed, and leaves the skin with a smooth and matte finish. It is formulated without parabens, phenoxyethanol, mineral oil, animal-origin ingredients, silicone, or synthetic colorants.
This makes it suitable for combination to oily and sensitive skin.
This is a good Korean moisturizer that softens and revitalizes dull and tired-looking skin in one step, reinforcing the skin's hydration levels.
This dermatologically tested moisturizer offers a triple action: instantly hydrates, tones, and smoothes the skin. To effectively provide these actions, it combines several key ingredients:
Bamboo sap for a moisturizing action.
Bamboo fiber retains hydration due to the presence of proteins and lipids.
Ophiopogon Japonicus for a soothing and protective action.
Diospyros Kaki for a toning action that keeps the skin elastic and plump to the touch.
Are you looking for the best anti-aging Korean moisturizer? Look no further!
Jowaé Red Ginseng Rich Cream is a rich anti-aging smoothing and firming moisturizing cream for dry and sensitive skin.
This fast-absorbing Korean face cream is made with 91% natural key ingredients such as ingrluminofenois®, red ginseng, hyaluronic acid, vitamin E, macadamia oil, and shea butter.
The acid hyaluronic of this anti-aging moisturizer stimulates collagen synthesis, which helps to fill and reaffirm the skin. In other words, fights the signs of skin aging.
This formula has a rich, unctuous, and non-greasy cream texture, leaving a woman's aromatic perfume (Pink, Iris & White Musk).
Free from parabens, phenoxyethanol, mineral oil, animal ingredients, silicones, or synthetic colors, it provides nourishing, smoothing, firming, protective, detoxifying, regenerating, and illuminating actions.
This is a great Korean vegan skincare moisturizer.
This is one of the best Korean skincare moisturizers that specifically target the eye area.
This eye cream reduces signs of tiredness such as pronounced dark circles and puffiness. It features a formula rich in active ingredients:
ginger and ginseng which brighten the skin and prevent oxidative cell damage.
ginkgo biloba that improves microcirculation.
corn oil that reinforces the skin's barrier function.
Sesame oil is known for its moisturizing and antioxidant properties.
Sweet Almond Oil with softening and nourishing action.
Shea butter with nourishing properties.
Arginine reduces the sensation of dry skin.
Soothing moisturizer developed for dry, fragile skin prone to redness.
Known for its inclusion of plants rich in antioxidants and fruit extracts, Frudia includes avocado extract and amino acids that reinforce the skin barrier, allowing it to defend itself from external aggressions.
Panthenol, known as pro-vitamin B5, is characterized by its calming and moisturizing action. The Centella Asiatica extract increases skin elasticity while stimulating the skin's production of collagen.
It's one of the top-rated Korean moisturizer creams because it only takes two weeks to reduce redness, reinforce hydration, and improve the skin's skin barrier.
Another best seller from this Korean skincare brand. This rich cream is one of the best Korean moisturizers for dry and sensitive skin because it hydrates, softens, plumps, and soothes the skin.
Its formula is enriched with powerful ingredients, such as antioxidant luminofenois, cherry blossom water, and shea butter. These are key ingredients that provide nourishing, refreshing, and softening actions, particularly for dry skin, even the most sensitive.
Made with 98% natural components, this moisturizing cream is quickly absorbed by the skin and it does not block pores.
It intensely moisturizes the skin while toning and stimulating skin radiance. Furthermore, the creamy texture and fresh aroma, thanks to bamboo water, jasmine, and cedar, provide a sensation of pleasure with each application.
If you are looking for a Korean firming and moisturizing cream rich in collagen, this Tonymoly product is perfect for you.
Due to its formula, it improves skin firmness while adding vitality and energy that reinforces skin elasticity and glow.
Beyond a high concentration of hydrolyzed collagen, its powerful formula combines Vitamin C, hyaluronic acid, and elastin which work synergistically to reinforce elasticity. The vitamin B12 and pink algae extract are responsible for bringing more luminosity and vitality to dull skin.
Overall, it's one of the best Korean skincare moisturizers because it also attenuates signs of aging, reduces flaccidity, and moisturizes the skin and it's suitable for any skin type.
This is one of the best Korean body moisturizers for dry to very dry and sensitive skin.
This nourishing body balm protects against dehydration and is quickly absorbed, leaving no greasy sensation. It rebalances, protects, detoxifies, and brightens your skin daily.
With a soft and enveloping scent, resulting from the presence of magnolia, water musk, and tonka bean, its formula is made with 91% naturally occurring components for intense, soothing, protective, detoxifying, nourishing, regenerating, and enlightening actions.
Furthermore, it does not contain parabens, ingredients of animal origin, mineral oil, phenoxyethanol, silicones, or synthetic dyes.
11. Beauty of Joseon Dynasty Cream
If you are not sure about your skin type and you are looking for a good Korean skincare moisturizer for your face, then the Dynasty Cream might be what you need!
Suitable for all types of skin, this Korean facial moisturizer cream reinforces the integrity of the skin barrier and soothes the skin by providing key ingredients to it and by fighting free radicals.
Its formula attracts and retains water molecules, allowing the skin to be hydrated while regulating excessive sebum production. The perfect suggestion for drier skin, with a silky and nourishing texture, with a dewy finish, leaving a natural glow after each use.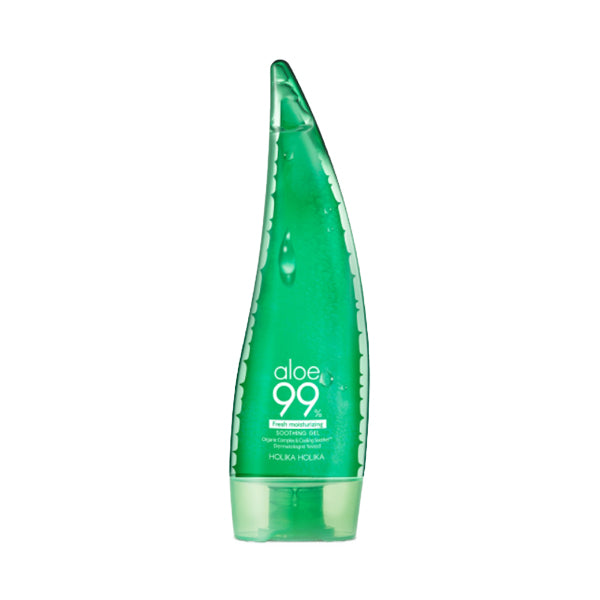 12. Holika Holika Aloe 99% Soothing Gel
This Holika Holika product is a reliable Korean body moisturizer rich in aloe vera that soothes, refreshes, and promotes the regeneration of irritated skin.
It can be applied after sun exposure, after shaving, waxing, or after peeling because Aloe Vera helps soothe sunburned skin, reducing redness and discomfort. Let's find out why:
Aloe vera also moisturizes and hydrates the skin, which is crucial after activities that can lead to skin dryness.
Aloe Vera's antibacterial properties help prevent infections, making it especially useful after shaving or waxing.
Aloe vera promotes skin regeneration and gently exfoliates, aiding in the healing process and leaving the skin refreshed.
This soothing gel is also formulated with other key ingredients that have anti-inflammatory and calming properties (Centella Asiatica, kale leaf, and lotus flower extracts).
With a gel texture, it is quickly absorbed, providing immediate relief upon application.
13. Mizon Multi-Function Formula Snail Repair Cream
Experience the remarkable benefits of Mizon Multi Function Formula All In One Snail Repair Cream.
This innovative Korean cream moisturizer for the face harnesses the power of snail mucin to rejuvenate tired and aging skin. It boosts collagen production, enhancing skin elasticity for a more youthful, lifted appearance.
The cream's anti-inflammatory properties also work to reduce blemishes and heal damaged, scarred skin. Plus, it acts as a potent moisturizer, forming a protective barrier that keeps your skin hydrated throughout the day.
You can incorporate this cream into your routine after cleansing and toning for a revitalized complexion that radiates health and vitality.
14. COSRX Advanced Snail 92 All In One Cream
A powerful all-in-one solution Korean facial moisturizer specially crafted to soothe and rejuvenate sensitized skin post-breakout.
Known for its high concentration of snail mucin (92%), it has a gel-type formula that absorbs instantly, providing an immediate sense of comfort. Due to its formula, it forms a protective moisture skin barrier that not only nourishes and plumps the skin but also delivers potent anti-aging benefits.
It is a cult product from COSXR because it soothes irritated, sensitized, and reddened skin in just one application. Its application contributes to cell renewal, hydration, the reduction of expression lines, and increased skin elasticity, thanks to the presence of sodium hyaluronate, betaine, allantoin, and panthenol that soothe the skin.
With a light texture, it can be applied to any skin type, including the most sensitive. An extra? It is cruelty-free and free of fragrance, parabens, gluten, silicones, and mineral oils.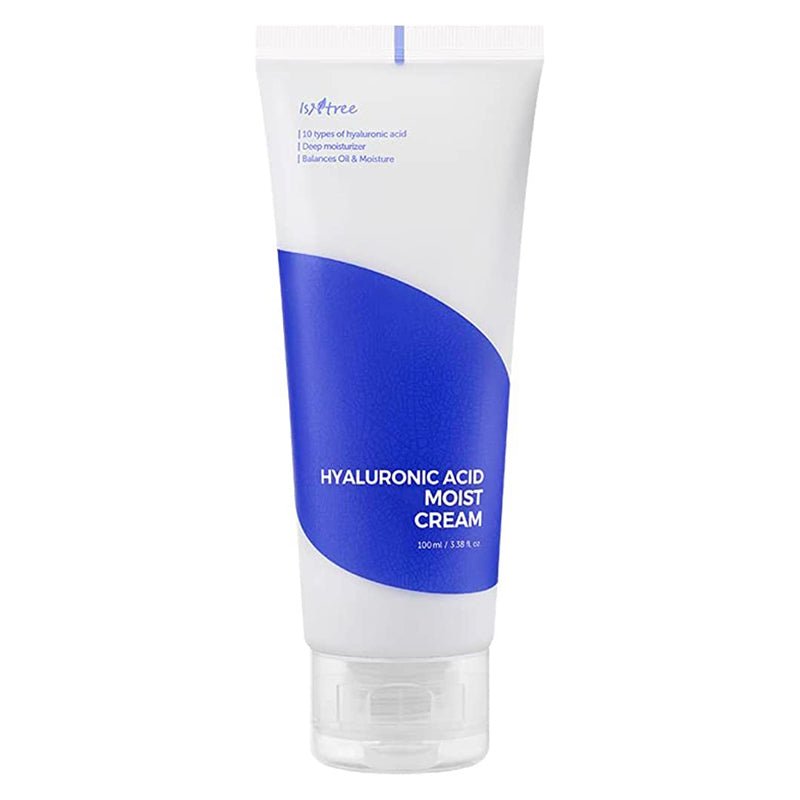 15. Isntree Hyaluronic Acid Moist Cream
Last but not least, the Hyaluronic Acid Moist Cream from Instree. It's one of the best Korean skincare moisturizers because it effectively hydrates and improves the elasticity of the skin.
In its formula, there are 5 different types of concentrated hyaluronic acids that work synergetically to hydrate the skin and reduce the appearance of fine lines and wrinkles.
Quickly absorbed by the skin, the Isntree Hyaluronic Acid Moist Cream does not leave a greasy or oily residue. It provides long-lasting hydration and it's suitable for all skin types. It can be also used as an excellent makeup base, as well as a hydrating night cream.
K-Beauty Products
Elevate your glow with our curated Korean skincare range at unbeatable prices!
Koren Skincare products
How to choose the ideal Korean skincare moisturizer for you
With the diversity of Korean moisturizers available on the market, it can be difficult to choose the ideal one for your routine. When choosing, it is essential:
Identify skin type: dry, combination, normal, or oily skin. Different moisturizers are formulated to address specific skin types and concerns. For dry skin, opt for a denser, more nourishing cream, while those with oily skin should opt for a lighter product, without a sticky sensation, with a mattifying character.
Skin concerns: Do you have specific skincare concerns like aging, acne, hyperpigmentation, or sensitivity? Look for a Korean moisturizer that contains ingredients known to address those issues.
Read reviews and recommendations: Reviews from trusted sources can provide valuable insights and help narrow down your options.
Remember, everyone's skin is unique, so what works for someone else may not work for you. It may take some trial and error to find the perfect Korean skincare moisturizer for you.
Be patient and observant of how your skin responds to different products. With careful consideration and a bit of experimentation, you'll find the best Korean moisturizer that suits your individual skincare goals.
If you don't see any improvement in your skin, it's crucial to seek a professional like a dermatologist.
FAQ about Korean moisturizers
What are the best Korean moisturizers for summer?
The best Korean moisturizers for summer are Jowaé Balancing Mattifying Fluid and Holika Holika Aloe 99% Soothing Gel because of their lightweight texture and freshness.
Which Korean moisturizer with niacinamide are good?
The Jowaé Balancing Mattifying Fluid and the Beauty of Joseon Dynasty Cream are good Korean moisturizers with niacinamide.
What are the top-rated Korean moisturizers with hyaluronic acid?
The top-rated Korean moisturizers with hyaluronic acid are Jowaé Red Ginseng Rich Anti-Wrinkle Cream, Tonymoly 2x® Collagen Cream, and Isntree Hyaluronic Acid Moist Cream.
Conclusion
After this article, it's much easier to find the ideal Korean moisturizer for you. With an array of exceptional Korean moisturizers tailored for various skin types, concerns, and budgets, you're empowered to curate a regimen that's uniquely yours.
From luxurious face creams that defy aging to nourishing eye creams that illuminate your gaze, and body lotions that cocoon you in velvety softness, Korean skincare offers a treasure trove of options.
No matter your skin type—whether it's oily, dry, combination, or sensitive—there's a perfect match waiting for you.
Remember, the key to a successful skincare routine lies in consistency and finding products that resonate with your skin's needs. So, go ahead, explore, and embark on your journey towards luminous, radiant skin. Your skin deserves nothing less! Here's to your radiant glow and the confidence that comes with it.