The Vichy Mineral 89 Serum Booster has gained huge popularity in the skincare community for its hydrating and skin-strengthening properties, but also its comfortable texture.
This facial serum is beloved for its key ingredient, Vichy's Thermal Water, sourced from the volcanic region of Auvergne in France, with a unique blend of minerals, including calcium, potassium, magnesium, and manganese.
This thermal water, along with hyaluronic acid, is known to deliver intense hydration, improve skin barrier function, and promote a plump, radiant complexion.
However, if you're looking to explore the best Vichy Mineral 89 alternatives that offer similar advantages, you're in the right place.
In this article, we will introduce you to various serums that provide a similar experience and benefits.
12 top alternatives to Vichy Mineral 89
This innovative product is designed to provide the hydration your skin craves, leaving it looking plump, smooth, and youthful.
What sets it apart from other serums is its powerful combination of 2 types of hyaluronic acid and glycerin, two of the most hydrating ingredients.
Hyaluronic acid is a natural substance found in the skin that helps to attract and retain moisture, while glycerin acts as a humectant that draws moisture from the air and locks it into your skin.
In addition, the texture is super lightweight and smooth, making it easy and pleasurable to apply. This non-comedogenic formula has a light fragrance and it is suitable for all skin types, including sensitive or acne-prone skin.
Like most serums in this article, Bioderma's Hydrabio contains hyaluronic acid. This time, it's combined with the patented Aquagenium® complex, which stimulates the skin's natural hydration process, for an intense and long-lasting hydration.
This interesting formula is able to provide both immediate and long-lasting hydration. Upon application, you'll notice an instant boost in moisture that leaves the skin plump and radiant. But with regular use, this serum helps to strengthen the skin's natural barrier, allowing it to better retain moisture over time.
All this results in a lightweight, non-comedogenic, fragrance-free, hypoallergenic formula that can be used by all skin types.
Besides the hydrating and plumping properties, this product also helps to calm redness and irritation, perfect for sensitive skin.
Plus, it absorbs quickly into the skin, without leaving any greasy residue behind, making it the perfect base for makeup.
These features make Bioderma's product one of the greatest alternatives to Vichy Mineral 89.
If you are a fan of Vichy's products but want to try something different from the Mineral 89 range, this serum is a great option.
It is also formulated with Vichy's exclusive Mineralizing Thermal Water and hyaluronic acid, which work together to hydrate and fortify the skin. But it also contains glycerin and natural plant oils, which help to further hydrate and calm the skin.
Upon application, this serum instantly quenches the skin's thirst and provides long-lasting hydration. Its lightweight texture allows it to be easily absorbed into the skin, without leaving it sticky or greasy.
In addition to its hydrating properties, this serum also offers a pleasant cooling sensation. With 97% natural ingredients, a light fragrance, and a hypoallergenic formula, it can be used by all skin types.
If you have dry skin, try using it before your usual face moisturizer, for extra long-lasting hydration.
This serum is a top seller of La Roche-Posay and, probably, you have already heard of it. If you're looking for hydration but also want to reduce signs of aging, this is for you.
It is formulated with La Roche-Posay's Thermal Spring Water and hyaluronic acid as well. But it also contains glycerin, madecassoside, and vitamin B5.
Vitamin B5, one of the star ingredients in this formula, is also known as panthenol and it's recognized for its skin-soothing and repairing benefits. It stimulates skin regeneration and resistance.
The result is hydrated, luminous, and smooth skin, with fewer wrinkles and fine lines.
This non-comedogenic formula was tested on sensitive skin and even after cosmetic procedures, making it suitable for all skin types that want to hydrate and rejuvenate the skin. Definitely, a reliable alternative to Vichy Mineral 89.
With a high concentration of hyaluronic acid, this new serum hydrates, smoothes, and fills.
It acts on the signs of dehydration, such as wrinkles, dull complexion, and feeling of discomfort. It deeply hydrates and smoothes the skin while protecting it from damage caused by external factors.
It contains 1.5% hyaluronic acid of different molecular weights to hydrate, fill, and brighten the skin completely and it is rich in Uriage Thermal Spring Water, which soothes and comforts the skin.
It also features a complex with Aquaxyl and Marshmallow Flower Extract, which provides progressive and long-lasting hydration.
This serum has a delicious, but light peachy fragrance and its dermatologically tested formula is perfect for all skin types with signs of dehydration, which makes it one of the best alternatives to Vichy Mineral 89.
This is a multitasking face serum that targets multiple skin concerns: it hydrates, fills, and strengthens.
Formulated with three types of hyaluronic acid, it helps to hydrate, plump, and smooth the skin's texture in 1 minute. It also contains dandelion extract and Rhealba® oat sap to protect, balance, and moisturize the skin.
This vegan, fragrance-free, non-comedogenic formula has 99% of natural ingredients and is Cosmos Organic Certified by Ecocert, making it perfect for sensitive or sensitized skin.
A great advantage of this product is that it can be used on its own as a serum, but you can also mix 1 to 3 drops in your moisturizer. And it can also be used on the eye contour area.
This Vichy Mineral 89 alternative also works as an anti-aging product. It consists of a highly concentrated serum that delivers intense hydration to the skin while helping to reduce the first signs of aging.
It contains a combination of 4 key ingredients: Hyaluronic acid, BioMarine, Matrikines, and PoreReducer.
The low and medium-molecular weight hyaluronic acid penetrates the different layers of the skin, providing deep and long-lasting hydration.
BioMarine is an ingredient of marine origin that helps to keep the skin tight and smooth, providing a plumping effect.
Matrikines helps to improve skin tone and elasticity and visibly diminish wrinkles and PoreReducer helps to reduce the appearance of pores, enhancing skin luminosity.
Its aqua-gel texture provides a light, fresh, and silky-smooth finish, ideal for all skin types with first signs of aging.
For those looking for a natural alternative to Mineral 89, this serum is a great option. Its formula contains:
honey extract
prebiotics
propolis extract
hyaluronic acid
flower extracts (rock rose, iris, wild rose)
wild rose infusion
rose essential oil
aloe vera
panthenol for
With this super formula, the Apivita Aqua Beelicious provides deep hydration and nourishment to the skin and also additional fortifying, protective, and soothing action.
Its lightweight texture is perfect to use as a make-up base and leaves the skin soft and supple. It can also be used to refresh skin after sun exposure.
Overall, this non-comedogenic formula is perfect for all skin types with signs of dehydration. It contains 98% natural ingredients and is free from parabens, silicones, mineral oils, glycols, ethanolamine, Phenoxyethanol, and phthalates.
This luxurious serum from Filorga contains not 1, not 2, but 5 different types of hyaluronic acid, to deliver intense hydration to the skin:
hyaluronic acid of low molecular weight: to stimulate the production of hyaluronic acid and collagen
hyaluronic acid of medium molecular weight: for a moisturizing action
hyaluronic acid of high molecular weight: to smooth wrinkles caused by dehydration
It features Filorga's NCTF, a unique poly revitalizing complex, packed with vitamins, minerals, and amino acids that help to nourish and revitalize your skin, but also plump and smooth skin texture.
These ingredients work together not only to hydrate but to Improve the skin barrier and create a protective film on the skin.
Ideal for all skin types, this serum also features packaging with a sophisticated pumping system for easier application.
Rich in natural ingredients, this serum is a game-changer in achieving a well-hydrated and radiant complexion.
This lightweight and fast-absorbing serum goes beyond the surface, penetrating deep into the skin to provide intense hydration that lasts.
One of the key ingredients in this serum is Avène Thermal Spring Water, sourced from the Cévennes Mountains in France, and known for its soothing and calming properties.
It is also enriched with high molecular weight hyaluronic acid, which instantly begins to replenish and lock in moisture, ensuring the skin stays hydrated throughout the day.
Finally, it contains vitamin B3, also known as niacinamide, which strengthens the skin barrier and has anti-redness action.
With a soft fragrance, a pH of 5.5, and 96% natural ingredients, it's a great product for dry skin.
You may know Neutrogena's Hydro Boost Aqua Gel, but there is actually a whole Hydro Boost range, which includes this Supercharged serum.
Besides, of course, hyaluronic acid, this formula contains naturally sourced trehalose, which helps to retain moisture.
And the best part: this serum contains capsules in the form of microspheres that release vitamin E, a powerful antioxidant, which protects the skin from environmental factors and strengthens the skin barrier.
This serum is specifically designed to provide long-lasting hydration, leaving your skin feeling refreshed and rejuvenated.
Its lightweight formula instantly absorbs into the skin, delivering a boost of hydration without clogging pores. Due to its non-comedogenic formula, developed with dermatologists, it's suitable for all skin types.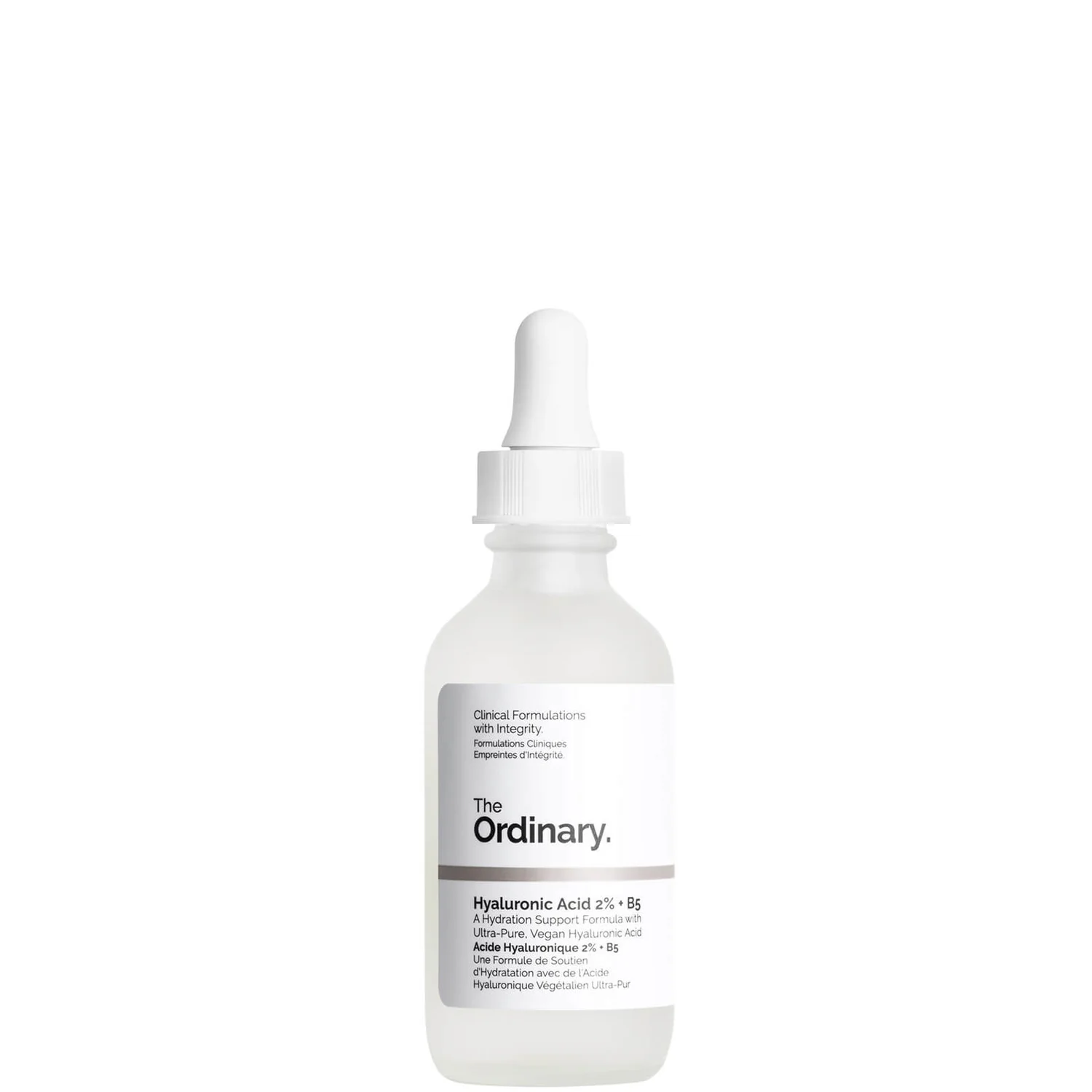 12. The ordinary – Hyaluronic Acid 2% + B5
If you prefer to use products with a simpler formula that focuses on a specific ingredient, you are probably a fan of The Ordinary.
As suggested by the name, this serum contains 2% hyaluronic acid. It contains different sizes of hyaluronic acid molecules, allowing it to penetrate different layers of the skin.
In addition to hyaluronic acid, this serum also contains vitamin B5, which is a water-soluble vitamin that works by attracting and holding onto water molecules. This way, it soothes and softens the skin.
Over time, this serum helps make your skin look smoother and more youthful and restore the skin's natural moisture barrier, preventing water loss and maintaining optimal hydration levels.
This light vegan formula is suitable for all skin types.
A Few Additional Tips
One of the key steps in every skincare routine should be hydration. Whether you have dry, normal, combination, or oily skin, it needs to be properly moisturized. (TIP: Read our guide to learn how to moisturize your face).
That's why most of the serums we presented here are suitable for all skin types, including sensitive, oily, or acne-prone skin.
If you have a combination of oily skin, the use of either of these serums might be enough to hydrate your skin. But if your skin is normal to dry, it probably needs more hydration, so it is best to use both a serum and a moisturizing cream.
If you do want to use both, be sure to always apply the serum first, since it is more fluid and concentrated and, this way, it will penetrate better in the skin.
You may have noticed that one thing all these products have in common is the presence of hyaluronic acid. This famous ingredient provides great hydration and is usually not irritating to the skin. This means you can apply it to slightly wet skin to increase its hydrating properties.
Conclusion
In conclusion, while Vichy Mineral 89 is a fantastic hydrating product, there are plenty of other alternatives available in the market that can provide similar benefits.
Whether you are looking for a vegan, gentle, luxury, or budget option, you can find answers in this article.
If none of these products suits your needs, please, have a look at our wide range of facial serums.